From Madrid By Car
Guide to Madrid's Sporty Day Trips
Madrid may be an urban paradise but did you know it's also a good place for nature-lovers? With autumn having returned, now is one of the best times in the year to explore Madrid's great outdoors. Hopefully, this guide to a selection of the capital's best outdoor spots will help you on your way…
Before we start, some important advise we just can't repeat enough: always leave home well prepared and, preferably, with good knowledge of the terrain. Never think to lightly about the natural areas you explore as some of them can become dangerous (snow, wet rocks, mist…). You can easily get lost or slip and fall. So make sure your insured and always consider the option of going with a guide.
La Pedriza
Location: Manzanares el Real
La Pedriza is quite possibly the number one recommended experience for those who want to be in full contact with the wildest nature. The higher you climb, the less people you meet and the more animals you see, such as mountain goats, horses, vultures, eagles, etc.
Walking along the Pedriza can be a bit of a demanding experience, but one you will always remember. Find your way among rocks, rockroses ("jaras") that will make your life impossible, steep rocky climbs, passages, cracks and – most of all – an unforgettable landscape.
You can visit it at any time of the year, but it is more advisable in spring and autumn, where the temperature is friendlier. Also: there are some entrance limitations due to the popularity. You can check these here.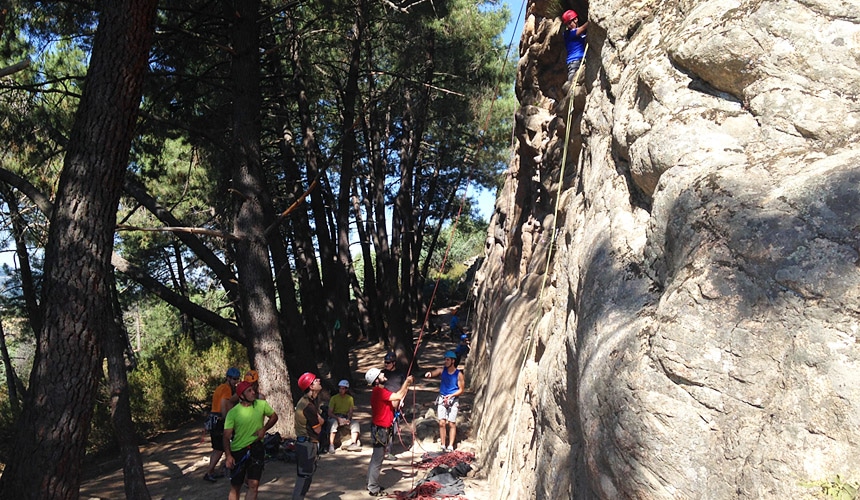 Activities:
• Hiking
• Rock Climbing
• Trail Running
• Mountain Biking
Parque Natural de las Hoces del Río Duratón
Location: San Miguel de Bernuy / Sepúlveda
"Las Hoces del Duratón" for short, is an absolutely essential excursion for any Madrilenian looking for a little relaxation. Autumn landscapes of unknown beauty, at less than two hours from the capital and conveniently close to Segovia.
In the midst of the flat at arid Castillian landscape lays this nature reserve, hidden away in the gorge of the Duratón River. Slithering along in gracious twists and turns, the rock faces on either side of this river is the nesting area for hundreds of vultures, which you can comfortably observe from your kayak.
On the way back, there's nothing better than to enjoy the delicious local lamb
Activities:
• Kayaking
• Hiking
• Gastronomy
• Visit to Segovia, Sepúlveda, Pedraza…
Parque Natural de Peñalara
Location: Puerto de Cotos
The Peñalara Natural Park is home to the Peñalara peak, three small circuses, two moraines and a series of lagoons, all of glacial origin. With its 2.448 m. above sea level, Peñalara is the highest in the Madrilenian Sierra de Guadarrama.
It would be tremendously difficult to choose a winner in a "Guadarrama Beauty Pageant", but this beauty would definitely be in the top three. A must when living in Madrid!
One of the hiking trails that can be done in this Natural Park is the one that leads from the Cotos Mountain Pass to the Peñalara Lagoon, a four kilometers long hike of medium difficulty. It's well indicated.
Activities:
• Hiking
• Skiing
Hayedo de Montejo
Location: Montejo
The Hayedo de Montejo ("haya" is beech and "hayedo" beech forest) is famous for being the only beech forest in Madrid and for the «oddities» that it hides, such as oaks of unique species, holly or the mere existence of beech, which is already a rarity in itself, given the climate of the area.
The best time to see it is in autumn since the mix of colors is impressive. In addition, you always visit with a guide who tells interesting stories about the beech and its appearance during the 1,5 hour tour.
The only problem is that it is quite complicated to visit; you need a pass and to get these you have two options: reserve by telephone or Internet or try your luck at the tourist office of the town of Montejo on the same day that you intend to make the visit. In case of reservations by phone or Internet, there is usually a months-long waiting list.
Activities:
• Guided Hike
• Road Cycling
• Visit to/road trip through the surrounding towns
Pantano de Santillana
Location: Manzanares el Real
In the very beautiful and culturally interesting town of Manzanares el Real, with a beautiful castle and of course the location of La Pedriza, you'll find this reservoir. It's popular amongst sunset strollers, fishermen or nature and photography lovers alike. The location is stunning, with La Pedriza practically licking the shore.
Activities:
• Relaxing walk
• Road Cycling
• Visit to Manzanares el Real
Pontón de Oliva
Location: Patones de Arriba
Arriving at the town of Patones de Abajo you follow the M-103 for approximately 4.km until you reach the exit marked «Presa de Pontón de la Oliva Dam» on the right hand side. A singular road (watch out for other vehicles!) will take you to the bridge in front of the dam, where you will see a parking lot.
The dam is wedged between 30 meters high rock faces which make this one of the best areas to climb with family and friends. Also: Patones de Arriba, the closest town, is one of the most popular weekend destinations for hungry Madrilenians. So we have the perfect combination for a fun weekend excursion at approximately one hour from Madrid.
Activities:
• Rock Climbing
• Hiking
• Mountain Biking
• Visit to Patones de Arriba
Abedular de Canencia
Locations: Miraflores de la Sierra / Bustarviejo / Canencia
If you want to escape and enjoy a spectacular birch forest, including holly, yew, waterfalls and much more, you don't have to go far.
Right in the Canencia Mountain Pass (next to Miraflores de la Sierra) begins a route that will take you to the waterfall "Chorrera de Mojonavalle", a waterfall that freezes in winter. In autumn, the birches turn a bright yellow and acquire a white touch in their gleaming trunks. It seems incredible that we have such a treasure so close to Madrid.

Activities:
• Hiking
• Mountain Biking
• Trail Running
• Road Cycling
La Chorrera de Litueros
Location: (Puerto de) Somosierra
"La Chorrera" (waterfall) is the highest waterfall in Madrid, situated between impressive rocks and showing the beauty and strength of Nature. The water comes from springs of the summits above and creates the Caño stream, which falls forming a ponytail along the three stone steps of La Chorrera. Shortly after its descent, the stream joins that of Las Pedrizas, in what will become the birth of the famous Segovian Duratón River.
This is actually the only location in the state of Madrid where you can enjoy one of the most exiting water sports: Canyoning.
Access to the Litueros waterfall is simple, short and suitable for almost all visitors. It takes about 15 or 20 minutes to reach the top. The waterfall is located a couple of kilometers from the town of Somosierra.
Activities:
• Canyoning
• Hiking
Bosque de la Herrería
Location: (San Lorenzo de) El Escorial
The "Bosque de la Herrería" (forest of the Blacksmith) is right next to the 16th century Monastery of San Lorenzo de El Escorial. Within this forest lays the hermitage of the Virgen de Gracia, whose "fiesta" is celebrated on the second Sunday of September with a great Romería of touristic interest.
But what I like most about this forest is walking through it, especially in autumn, when you can see the different shades of the trees and the atmosphere that is breathed (literally) in this natural environment. Really magical!
An added advantage is that it's located in El Escorial, another must-see for anyone residing in Madrid, with a larg array of terraces and restaurants (including Michelin-star restaurant Montia).

Activities:
• Hiking
• Running
• Mountain Biking
• Visit to San Lorenzo de El Escorial
Embalse de El Atazar
Location: El Atazar / El Berrueco
Because of its enormous size, the reservoir lake of El Atazar is also known as "El mar de Madrid" (The Sea of Madrid). The best way to access it is through the towns of El Berrueco (closest option from Madrid) or El Atazar, where the lake has a beautiful sailing port. The reservoir, which was inaugurated in 1972 and is part of the Canal de Isabel II, is surrounded by a rugged landscape, dotted with "jara" (rockroses) and pine varieties.
The combination of the beautiful lake with the surrounding nature and attractive villages at just 87 kilometers from Madrid make El Atazar a top outdoor location for your weekends. On top of that, there are several water sports to enjoy here, varying from kayaking or stand-up paddle boarding, to sailing, wind surfing and even kite surfing.

Activities:
• Kayaking
• Stand-up paddle boarding
• Sailing
• Wind surfing
• Kite surfing
• Hiking
Valle de la Fuenfría
Location: Cercedilla
In the heart of the Sierra de Guadarrama National Park, is the Fuenfría Valley, surrounded by the mountains of Cerro Minguete (2.023 m.) and "Siete Picos" (the Seven Peaks: 2.138 m.). The nearby village of Cercedilla could be described as "the Chamonix of Madrid", since it's always been the local "capital" for skiers and mountaineers.
The Fuenfría valley is filled with life: especially roe deer, wild boar, badgers and foxes. Historically, this valley has always been one of the most popular destinations for Madrilenians looking for all sorts of healthy fun in their mountains.
Activities:
• Hiking
• Trail Running
• Mountaing Biking
• Tree adventure park Amazonia
• Natural pools of Cercedilla ("piscinas naturales")